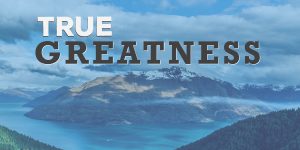 Date: 5/13/2018
Title: Living a Life of True Greatness
Speaker: Pastor Darryl J. Stalter
Scripture: Matthew 20:17-34
A life of true greatness. This is something we all truly desire, but often seems to slip from our grasp. God's desire is for us to live lives of greatness, but greatness as He defines it. In Matthew 20 Jesus challenges us to realign our idea of greatness to God's ideal: greatness that is eternal rather than temporal.