Bible Studies
Lord Change My Attitude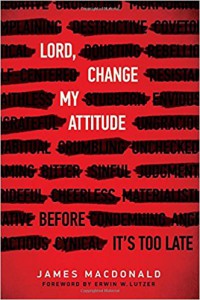 We're very good at explaining why we're unhappy: bad job, bad relationships, bad luck. But there's probably a better reason: bad attitudes.
In Lord, Change My Attitude, James MacDonald shows us just how much our attitudes affect our lives.
Drawing from the experience of the Israelites who grumbled through the wilderness, MacDonald shows how bad attitudes rob us of joy. Coveting, complaining, and being critical are not what our hearts were made for. They were made for thankfulness, contentment, and love. Is your heart straining under the weight of a bad attitude?
Men's Bible Study:
Day/Time: Tuesday Nights @ 6:30 pm
Location: 334 Cresswell Rd.
Baltimore, MD 21225
Title: That the World May Know: Promised Land
Women's Bible Study:
Day/Time: Thursday Nights @ 6:30 pm
Location: 5 West 11th Ave.
Baltimore, MD 21225
Title: Breaking Free: The Journey, The Stories